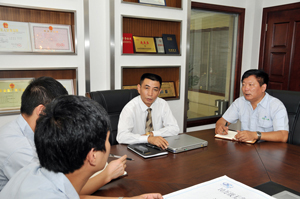 Zhou Ping, Founder & CEO
Zhou Ping began working in the purification industry over 20 years ago. After gaining experience in the field, he founded YiJing in 2003, and has since devoted himself to developing the YiJing brand.
Mr. Zhou takes a hands-on approach to leadership. You're more likely to see him more in the factory or on site at a project than in the board room. The majority of YiJing's products were designed and developed by Mr. Zhou himself.
"Even though we're in the technology business, trust is the most important factor in our success. Because of how crucial our cleanrooms and equipment are to our clients' product quality, you have to be able to point to a long track record of success in this industry to earn that trust."
Marcus Day, Global Business Development Director

Marcus is a native of Overbrook, KS in the United States, and has spent more than five years in China since 2008. He received his MBA from Vanderbilt University in 2015 and his Bachelor's degree from the University of Kansas in 2010.
Before joining YiJing Marcus previously worked at Walmart China as a Finance Manager and at 亚马逊.com as an Operations Manager.
"I'm excited to be part of the team at YiJing, and look forward to helping new clients around the world deliver safer, higher quality, more reliable products to their customers."