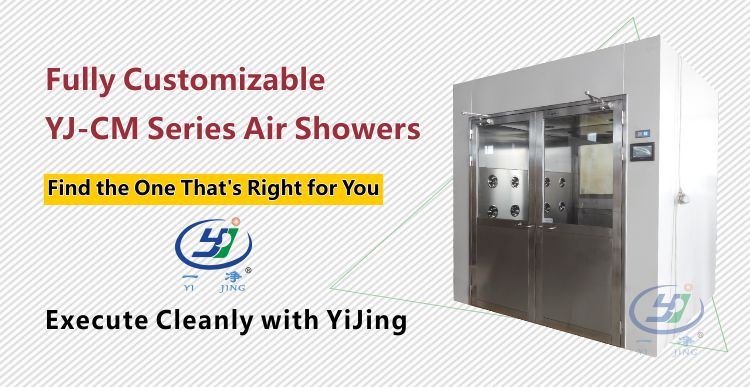 Cargo Air Shower Basics
Cargo air showers are frequently put to use in a variety of manufacturing environments. Cargo air showers offer a convenient and automated solution to cleaning the surfaces of work in progress or finished goods, as well as provide a buffer area between two areas of different cleanliness. Modern cargo air showers can be categorized into four main types:
(1) Manual Door Cargo Air Showers (YJ-CM Series) - Less common; mostly used for smaller items
(2) Automatic Sensor Door Cargo Air Showers (YJ-A Series) - Suitable for small trailers and/or channels that are double use for cargo and personnel
(3) Automatic Door Cargo Air Showers (YJ-CA Series) - Suitable for forklifts and other large vehicles, as well as channels with high amounts of traffic
(4) Assembly Line Cargo Air Showers (YJ-X Series) - Suitable for cleaning products moving along an assembly line
Air Shower Basics
Air showers are a tool that allows for people and/or objects to enter a clean area without bringing in unwanted contaminants such as dust and bacteria. Air showers act as a sort of buffer or air lock between two areas of varying cleanliness, and preserve the air quality of a dynamic clean environment. Due to their usefulness and simplicity, air showers are a critical component of modern-day cleanroom facilities.
Air showers employ high-speed currents of air to blow microscopic dust and bacteria particles off of clothing and other surfaces. The air used in air showers runs through a filtration system in order to maintain air purity and avoid recirculation of microscopic contaminants.
The YiJing YJ-CM Model Cargo Air Shower is available in 100% SUS304 Stainless Steel, Stainless Steel Interior, and 1.2 mm High-Quality Cold-Rolled Steel Place. The YJ-CM employs YiJing's patented air shower technologies, and includes 360-degree jet nozzles that work at more than 25 m/s. Our smart, automatic YJ-CM features a touchscreen LCD color display that allows the user to customize the air shower interval and many other settings, as well as control user access. We employ German technology for our interlocking door system, which ensures a clean seal that prevents contaminant seepage. All YiJing Cargo Air Shower models can be customized and configured to meet your specifications. Cargo air shower customers have a wide range of specification requirements, and we are willing and able to custom-build any model from the equivalent of a single-user air shower to cargo air shower channels large enough to accommodate heavy machinery.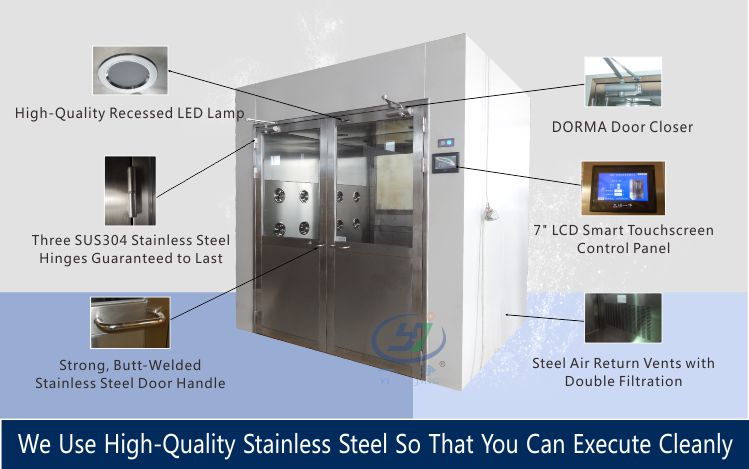 YiJing Air Shower Advantages
Choose one or more of our 14 optional features to build the perfect air shower for your needs.
YiJing air showers are manufactured to exacting standards using state-of-the-art machinery including laser cutting and CNC automatic sheet cutting equipment. We use only SUS304-grade stainless steel and high-quality cold-rolled steel plates for our interior and exterior surfaces.  
Our air showers come equipped with a 7" LCD touchscreen display PLC system, an OTS error code display system, and available audio prompts and instructions. The system can be set to manual or automatic mode, and includes security features such as a screen lock, delayed light timer, password protection, and total system access control.
All electrical air shower components, including door locks (LCJ), door seals (Dorma), and LED lights (Omron) employ patented, innovative technologies. All other proprietary technologies are covered in Chinese patent ZL 2010-2 0502252-1.
We can customize and add features such as UV lights, door configuration, air shower dimensions, interior/exterior materials, ozone generators, infrared sensing technologies, fingerprint access, etc. according to your needs.
YJ-CM Series Cargo Air Shower Spec Sheet

Model

YJ-CM-1

YJ-CM-2

YJ-CM-3

YJ-CM-4

YJ-CM-5

Material

Available in 100% SUS304 Stainless Steel and/or High-Quality Steel Plate

Shower Time

0-99 seconds

Jet Nozzles

12

24

36

48

60

Nozzle Diameter

30 mm

Air Velocity

>25 m/s

Door Closer

DORMA (German) Door Closer

Electronic Lock

LCJ Electronic Lock

Filter Efficacy

≥99.995% of Particles ≥0.3μm

Control Panel

7" LCD Touchscreen PLC Control Panel

Filter Size
LxWxH (mm)

600 × 600 × 120

820 × 600 × 120

600 × 600 × 120

820 × 600 × 120

600 × 600 × 120

No. of Filters

2

4

6

8

10

Outer Size
LxWxH (mm)

2200 x 1000 x 2100

2200 x 2000 x 2100

2200 x 3000 x 2100

2200 x 4000 x 2100

2200 x 5000 x 2100

Inner Size
LxWxH (mm)

1600 x 900 x 1960

1600 x 1900 x 1960

1600 x 2900 x 1960

1600 x 3900 x 1960

1600 x 4900 x 1960

Power Source

380V/50Hz (Also Available in 220V and 110V)

Lighting

2 Recessed LED

4 Recessed LED

6 Recessed LED

8 Recessed LED

10 Recessed LED

Fan Power
(# x Kw)

2 x 0.55

4 x 0.55

6 x 0.55

8 x 0.55

10 x 0.55

Weight

(kg)

550

1000

1450

1900

2350
YiJing YJ-C-Series Air Shower Standard Features
DORMA Door Closer

LCJ Electronic Lock

Butt-Welded Stainless Steel Handle

360° Stainless Steel Jet Nozzles

Advanced Sensor Technology

7" Smart LCD Touchscreen Control Panel with English Interface

YiJing YJ-C-Series Air Shower Custom Features





Emergency Stop Button

Voice Instruction System

Roof-Mounted Jet Nozzles

Security Gate

Card or Fingerprint Security Access Systems

Anti-Explosion Device

Wireless Power Button

Grill Style Floor

Protective Fence

Automatic Door

High-Speed Rollup Door

Protective Barriers

L-Style Configuration

Easy Access Curtain Door



Compare YiJing Air Showers to the Competition
Smart Multi-Function LCD Display vs. Traditional Control Panel Lacking Advanced Features
Energy-Efficient Recessed LED Lamps vs. Dust-Collecting Regular Fluorescent Fixtures
Professionally Constructed High-Quality Stainless Steel Exterior vs. Low-Quality Design
部分国外客户留影