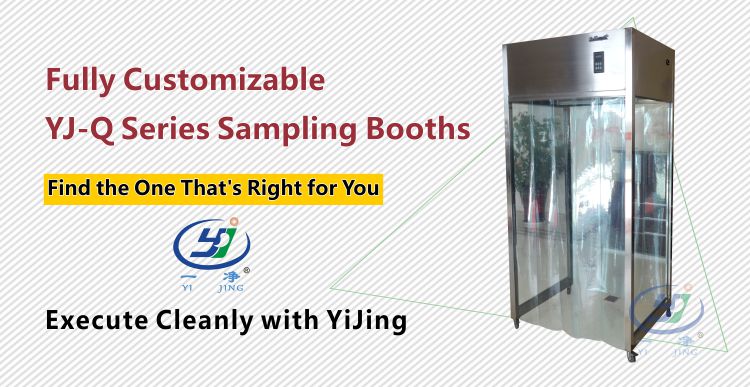 YiJing Sampling Booths Overview
Sampling booths are laminar airflow enclosures that employ a double filtration system (initial filter - HEPA filter), and commonly used for sampling and testing activities in the pharmaceutical, electronics, precision instrument, cosmetic, and food and beverage industries. They provide a sterile, clean environment for controlled processes that require a great deal of precision and/or accuracy. Sampling booths are suitable for use inside or outside of a clean environment since they are a self-contained structure.
All YiJing cleanrooms conform to GMP standards, as well as GB1497-85 and GB-191 regulations. Our cleanrooms all meet at least FS209E 10,000 / ISO 7 cleanliness levels, and can be built to meet FS209E 100 / ISO 5. Our sampling booths come equipped with an electronic touchpad control panel, variable drive FFU, adjustable airflow direction, UV sterilization light, and can be built to your specifications. Our sampling booths are available in either 100% stainless steel or high-quality steel plate.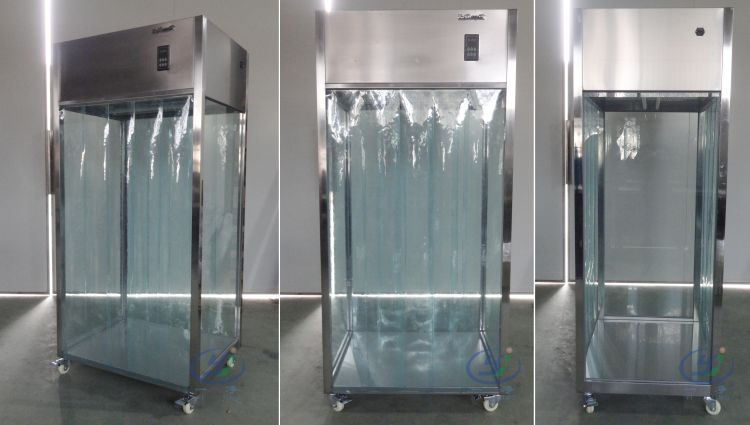 Sampling Booth Use Procedure
Move sampling booth to the desired location

Set the brake to lock the booth's position

Plug in the power cord

Turn on the power

Turn on the fan

Adjust the voltage to the proper level

After 15 minutes, bring in the sampling equipment

After sampling collection is complete and sampling equipment has been removed, turn off the fan and unplug the power cord

Move the sampling booth back to its designated storage location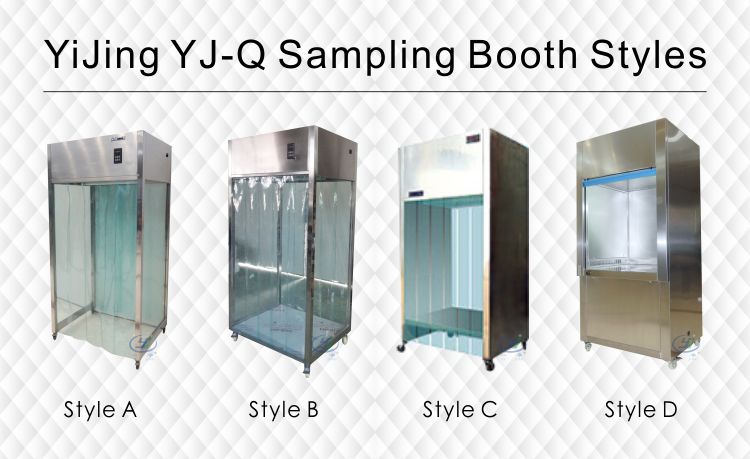 Four Different Sampling Booth Styles*

  Style A: Two-sided glass paneling, two sides plastic curtain, no floor
  Style B: Two-sided glass paneling, two sides plastic curtain w/floor
  Style C: Two-sided steel paneling, two sides plastic curtain w/floor
  Style D: Three-sided steel paneling w/interior air shower system


*All Styles available in SUS304 Stainless steel or high-quality steel plate
YiJing YJQ Sampling Booth Spec Sheet
Model
YJQ-980

Cleanliness Level

FS209E 100-10,000 (ISO 5-7)

Average Air Velocity

0.25-0.6 m/s

Decibel Level

≤58dB

Power Source

AC 220V/50Hz
(can be adjusted per customer request)

Max Power Consumption

0.37kW

Normal Working Conditions

5℃-40℃; Relative Humidity ≤80%

Atmospheric Pressure

86~106KPa

External Dimensions
LxWxH (mm)

700 x 900 x 1900

Variable Drive Fan

5 speeds