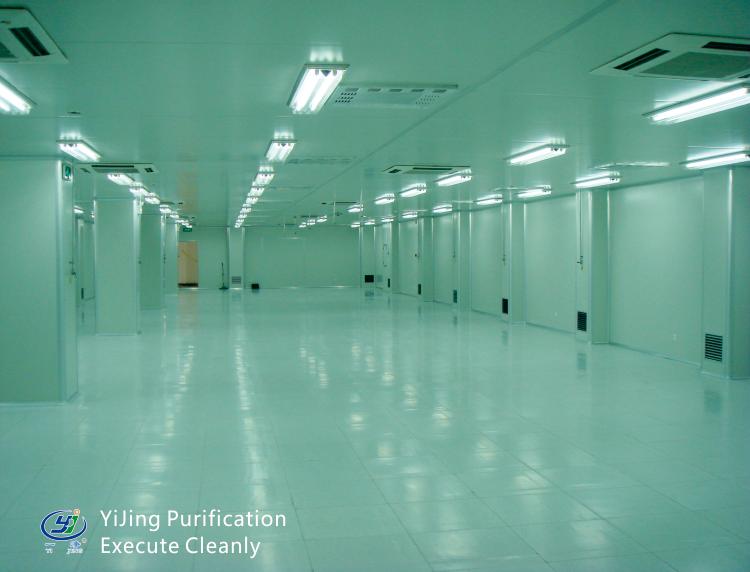 YiJing Dust-Free Cleanrooms
YiJing builds and designs dust-free cleanroom ranging from FS209E levels 100 to 300,000, which equate to ISO 14644 levels 5 to 8. For 300,000-level cleanrooms, a sub HEPA filter may be used. For levels 100-100,000, we recommend installation of a system of primary, secondary, and high-efficiency HEPA filters. The airflow rates of the secondary and high-efficiency filters should be less than or equal to the specified airflow rate of the cleanroom. Secondary filters should be concentrated around the barotropic section of the air handling system, while the high-efficiency filters should be concentrated around the end of the air handling system.

Airborne Particulate Cleanroom Cleanliness Classes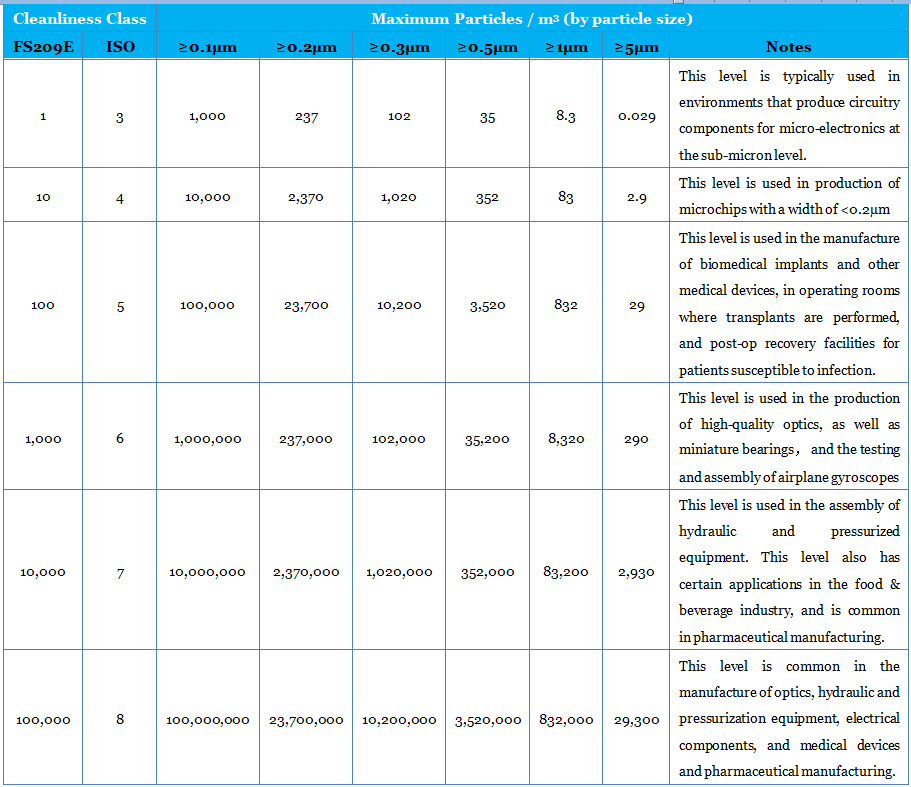 Additional Considerations for Dust-Free Cleanrooms

Dust-free cleanrooms maintain a positive pressure environment and control the number of dust particles in the air via an advanced filtration system. In addition to the filtration system, the level of cleanliness in a cleanroom is determined by internal and external environmental factors, such as the amount of people and equipment contained within the cleanroom and the amount of traffic passing through the room. The amount of air changes per hour (air change rate or ACR), air velocity, method of airflow, fan size and fan speed are just some of the variables that we consider when designing a world-class cleanroom solution for your enterprise.
Our dust-free cleanroom series can be designed and built to suit clients who require high-quality air filtration in the electronics, semiconductor, precision fabrication, LCD manufacturing, optics, circuitry, and other related industries.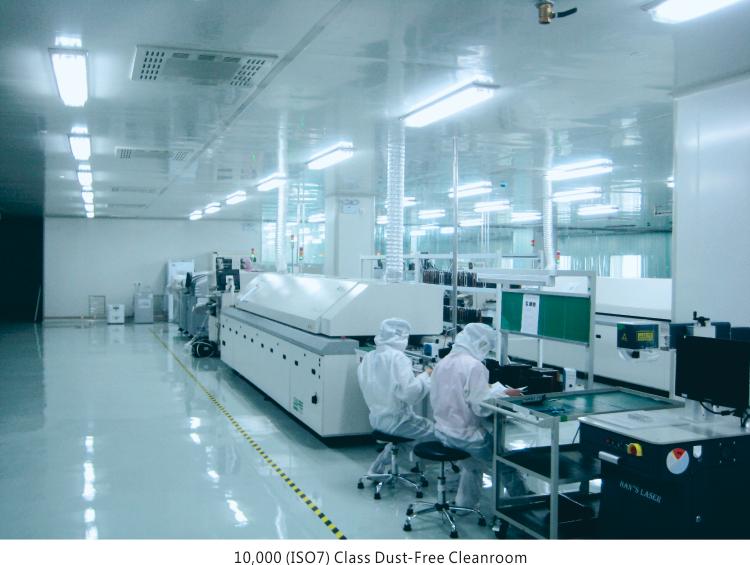 Important Practices for Maintaining your Cleanroom

(1)When cleaning the walls of your cleanroom, use ESD cleanroom wipes.

(2)Use a solution of 90% deonized water and 10% isopropyl alcohol for surface cleaning.
(3)Only use detergents that have been approved for use in cleanroom environments.
(4)Make sure to remove all garbage and other waste from the cleanroom daily.
(5)Regularly vacuum your cleanroom, and keep a log of all cleaning and vacuuming activities in your cleanroom with a "Cleanroom Cleaning Log" that includes columns for name, time and area cleaned.
(6)When cleaning the floor of your cleanroom, make sure to shut off the air purification system and use a mop approved for use in cleanrooms.
(7)When vacuuming your cleanroom, use a vacuum that contains a HEPA filter.
(8)Regularly clean and maintain all windows and doors.
(9)Vacuum and mop your cleanroom daily; and clean walls, windows, and doors weekly.
(10)The undersurfaces of elevated floors must also be cleaned regularly.
(11)Clean the columns and supports of elevated floors once every quarter.
(12)When wiping surfaces, always wipe downwards. Start cleaning your cleanroom from the location farthest from the entrance, moving towards the entrance as you clean.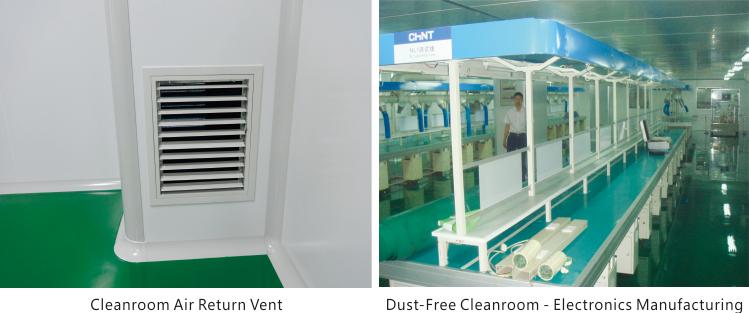 Dust-Free Cleanroom Management System

(1) Purpose:Enact a management system for the production process that will allow supervision and management of cleanliness while preventing contact with contaminants in order to have a significant positive effect on product quality.

(2) Scope: Applicable to anyone or any thing that comes in or around the cleanroom or related facilities.
(3) Working Procedures:
(a) Employees with access to the cleanroom are required to take a physical exam and produce proof of good health annually.
(b) The number of people in the cleanroom at any time may not exceed the quotient of (total are in square meters / 4).
(c) Refer to "Cleanroom Area Apparel Management System" for information about the apparel allowed in the cleanroom.
(d) Disinfect the cleanroom with UV light for one hour daily when the cleanroom is unoccupied. Disinfect with formaldahyde fumigation for 30 minutes once per month. Keep a log of both of these activities.
(e) All people entering and exiting the cleanroom must follow the procedures outlined below:
Enter Controlled Area→Remove Shoes→Remove Clothing→Wash Hands→Put on Cleanroom Apparel→Disinfect Hands→Air Shower→Enter Cleanroom
Approach Cleanroom Exit→Exit Cleanroom→Remove Cleanroom Apparel→Put on Original Clothes→Put on Shoes→Exit Controlled Area
(f) Designate one person to be responsible for stocking and replenishing hand disinfectant. Use 0.3% benzalkonium bromide hand disinfectant.
(g) Employ pass boxes to transfer any material into a cleanroom, whether from the outside environment or from one cleanroom to another. This minimizes the amount of times that the door to the cleanroom is opened, which in turn minimizes air contaminants in the cleanroom.
(h) Sanitize all tables, workstations, benches, and the cleanroom floor daily. Clean the walls of the cleanroom weekly, and keep a detailed log of all of these activities.
(i) Clean Room Dress and Grooming and Behavior Code: No long fingernails; no fingernail polish; no rings, bracelets, watches, necklaces or other accessories/jewelry; no eating or drinking; no loud talk or noises; facial masks must be worn at all times; clean room apparel may not be worn outside the cleanroom area, and non-approved apparel is not allowed in the cleanroom area.
(j) Containers from inside the cleanroom area must not come into contact with containers from outside of the cleanroom area.
(k) Assign an individual to be responsible for cleaning all containers used in the cleanroom at least once per week, and keep a detailed log of this activity.
(l) Launder cleanroom apparel daily.
(m) All air entering testing or production areas of the cleanroom must pass through an air purification system.
(n) If any item makes contact with the floor during the production process, it must be thoroughly cleaned before it can be used again.
(o) When the cleanroom is operational, workers must wipe their hands with an alcohol wipe once every two hours in order to avoid contamination from sweat or skin cells.
(p) All finished products or work in progress must be placed in a covered container at COB each day in order to avoid contamination.
(q) All cleanroom light fixture covers must be inspected and maintained at least once every two months in order to ensure safety and proper lighting in the cleanroom.
(r) All UV Light use should be tracked. UV Lights should be cleaned with an alcohol wipe one per week. If a UV Light has been used for more than 800 hours, it should be replaced. Alternatively, all UV Lights' line strength can be inspected annually. If the line strength is not up to standard, the light should be replaced.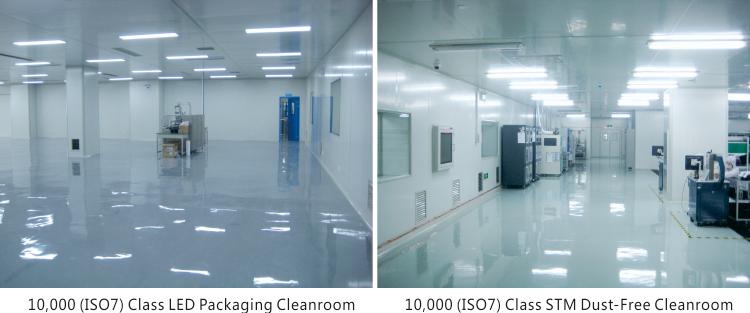 ---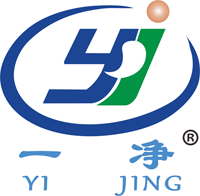 Selected YiJing Cleanroom Projects
Dalian, China - Ya Ke Group (Chinese-Korean JV), 100-level (ISO 5) Clean Assembly Room
Wuxi, China - Sheng Xi Lu Co., 10,000-level (ISO 7) Precision Bearings Clean Assembly Room
Hunan, China - Li De, LLC, 1,000-level (ISO 6) Clean Production Facility
Qingdao, China - Zhao Jin Electronics, 1,000 / 100,000-level (ISO 6 / ISO 8) Electronics Assembly Facility
Taiyuan, China - He Yuan Electronics (Chinese-American JV), 10,000-level (ISO 7) Clean Assembly Facility
Zhangjiagang, China - Zhong Tai Tai Zi He Qiao Electronics, Keyboard Production Facility 
Wuxi, China - Ai Er Electronics - 8-meter Air Shower Channel
Jiangsu, China - Xing Rong Technology, 100,000-level (ISO 8) Clean Production Facility
Nanjing, China - Guan Shi Technology, 10,000-level (ISO 7) Cleanroom Project
Shanghai, China - BYD Automotive, Air Shower Project
Shanghai, China - Ying Bang Optics, 10,000-level (ISO 7) Lens Production Facility
Huangshan, China - Huangshan Automotive Electrical Equipment, 100,000-level (ISO 8) Clean Assembly Facility
Suzhou, China - Yin Bang Electronics, 10,000-level (ISO 7) Clean Production Facility
Jiangsu, China - Hua Guang Optic Technologies, 100,000-level (ISO 8) Clean Production Facility
Zhejiang, China - Wei Er Electronic Equipment, 100,000-level (ISO 8) Clean Production Facility
Changzhou, China - Yuan Chang Photoelectronics, Solar Panel Production Facility
Wenzhou, China - Modern Laser Equipment, 10,000-level (ISO 7) Cleanroom
Weihai, China - Worldwide Photoelectronics (Taiwanese-Chinese JV), 10,000-level (ISO 7) Cleanroom 

Wuxi, China - Ke Nuo Da Electronics, 100,000-level (ISO 8) Lens Production Cleanroom
Wenzhou, China - Bo Te Li Valve Group, 100,000-level (ISO 8) Clean Production Facility
Zhenjiang, China - Tian Cheng Co., 100,000-level (ISO 8) Clean Assembly Facility

Yangzhou, China - Hua Er Solar, 100,000-level (ISO 8) Photovoltaic Material Cleanroom

Anhui, China - Chang Hui Automotive Electrical Systems, ISO 8 Automotive Accessories Clean Production Facility

Jiangsu, China - Huitong Group, 10,000-level (ISO 7) SMT Cleanroom Project
Suzhou, China - Hui Jin Optics, 100,000-level (ISO 8) Lens Production Facility

Zhejiang, China - Jun Pu Co., 1,000-level (ISO 6) SMT Chip Cleanroom
Yangzhou, China - Hua Er Solar, 100,000-level (ISO 8) Solar Furnace Production Cleanroom
Ningbo, China - Chemical Monitoring Technologies, 100,000-level (ISO 8) Cleanroom Project
Changshu, China - Shui Shan Lighting Technologies, 100,000-level (ISO 8) LED Light Production Facility
Wuxi, China - Ke Ni Ka Mei Neng Da Co (Chinese-Japanese JV), ISO 7 Electronics Assembly Facility
Wuxi, China - Xin Ao Microsensors, 10,000-level (ISO 8) Cleanroom Project
Ningbo, China - Jin Yi Automotive Accessories, Automotive Accessory Cleanroom Project
Wuxi, China - Ke Xin Wei Ke Technologies, 100,000-level (ISO 8) Microsensor Cleanroom Facility
部分国外客户留影