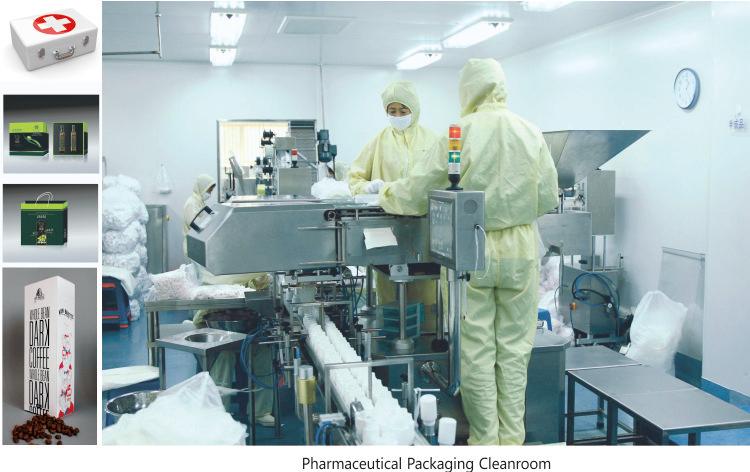 Food & Beverage and Pharmaceutical Packaging Cleanroom Floorplans

Due to the unique requirements of packaging cleanrooms, special steps must be taken in planning their layout. Packaging cleanrooms for food/beverage and pharmaceutical applications must plan properly for the flow of both people and material in and out of the cleanroom. Additionally, pressure gradients must achieve proper levels to ensure a sterile environment. When designing a F/B or pharmaceutical packaging cleanroom, the following considerations are vital to a successful operation:
(1) An airlock must be established adjacent to the main operating cleanroom in order to ensure that air from areas with lower cleanliness levels does not contaminate the packaging environment.
(2) Lab and packaging staff must change shoes and apparel and wash their hands before passing through the buffer room and the airlock.
(3) Any materials passing from a non-clean area into the clean area must pass through a pass box for disinfection. Any items moving from a level of lower cleanliness to a level of higher cleanliness must also follow this procedure.
Food & Beverage and Pharmaceutical Packaging Cleanroom Structure
According to "Clean Workshop Design Standards", cleanrooms must use materials that do not produce or collect dust particles. Cleanrooms must also be free of blind corners, and use only approved metal materials in construction in order to maintain a high level of durability. 
Food & Beverage and Pharmaceutical Packaging Cleanroom Flooring
F/B and pharmaceutical packaging cleanrooms should use solvent based epoxy resin for floor coating. This material is dense, non-dust producing, crack-resistant, load-bearing, temperature resistant, static resistant, slip resistant, scratch resistant, and is available in a variety of great-looking colors.
Lighting Solutions

Clean area lights should connect directly to and have suction with the ceiling, whereas non-clean areas can use normal fluorescent lamps. UV lamps should have their own independent controls.
Air Purification Solutions
According to regulations, cleanrooms must have an air purification system. This system is typically installed on the roof of the facility, and can consist of single or multiple units. The system's pipes are made from high-quality galvanized steel, which we manufacture ourselves. Air purifications systems are only part of the entire cleanroom solution. They work in concert with other equipment that controls airflow direction, eliminates dust, and controls humidity in the environment. Variable speed fans should be employed to reduce energy use when the cleanroom is not in use.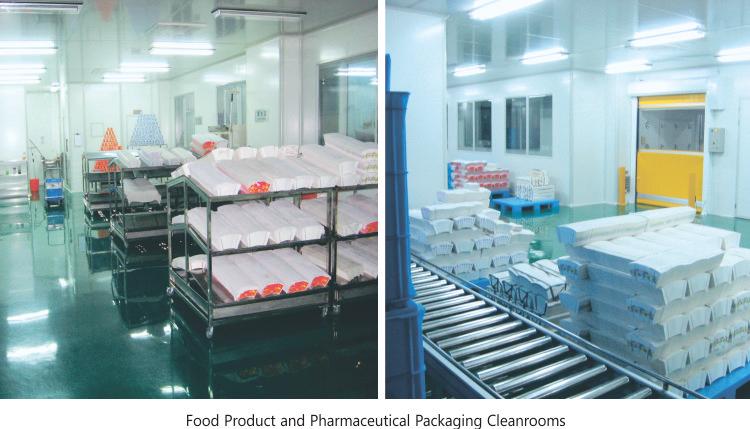 Food & Beverage and Pharmaceutical Packaging Cleanroom Requirements

(1) The cleanroom must have sufficient airflow to dilute or remove contaminants.
(2) The air in the cleanroom must flow from the cleanroom to less clean areas before being purified and returning to the clean area.确。
(3) The air flowing into the cleanroom must not increase the level of contaminants in the cleanroom.
(4) The air purification system must keep all areas of the cleanroom free from high concentrations of contaminants.
Food & Beverage and Pharmaceutical Packaging Testing Procedures
(1) Ventilation
For turbulent flow cleanrooms the air change rate must be tested; for laminar flow cleanrooms the air speed must be tested.
(2) Airflow Control Between Areas
In order to ensure that air is flowing in the proper direction--from cleaner areas to less clean areas--the following testing procedures must be performed:
(a) Check for leaks in filters and filter frames in order to prevent contaminant leakage
(b) Inspect insulation and buffer areas to make sure that contaminants do not seep through cracks or holes in the walls.
(c) Cleanroom airflow must meet the following requirements: 1) For turbulent flow cleanrooms, airflow must be uniform throughout the cleanroom so that every area will be free of contaminants. 2) For laminar flow cleanrooms, the air velocity must meet design standards in every part of the space.
(d) If the cleanroom passes inspections a-c, measure the concentration of dust particles and/or microorganisms to confirm that your cleanroom is operating at the desired level.
(3) Other Tests
In addition to the tests described above, the temperature, humidity, decibel level, level of vibration, etc. should all be measured on a regular basis to ensure that these values are within tolerance of standard values.
Packaging Cleanroom Cleanliness Levels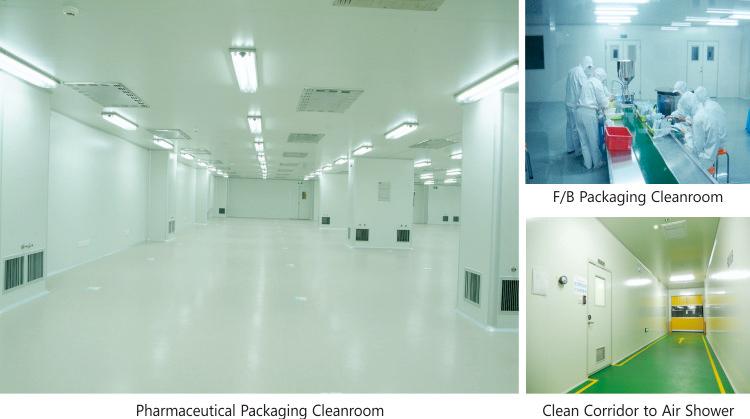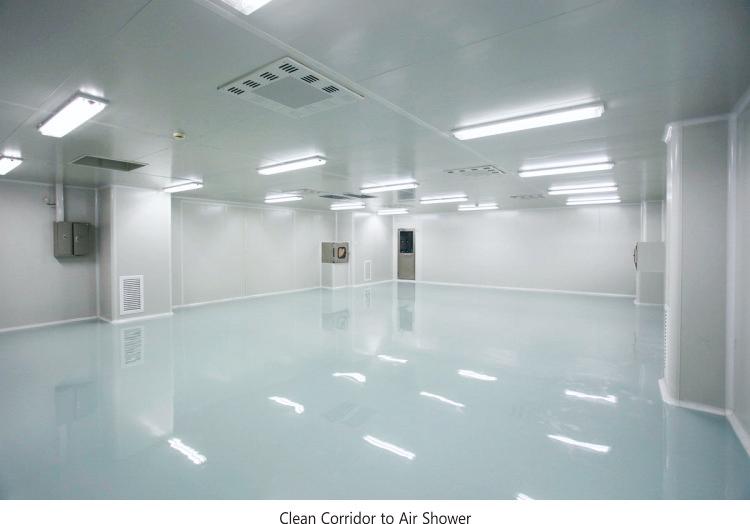 ---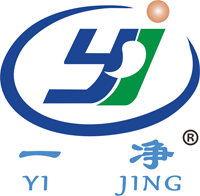 Selected YiJing Cleanroom Projects
Putian, China - Hong Li Printing & Packaging, 100,000-level (ISO 8) Sterile Packaging Facility
Huangshan, China - Taoyuan Bottling (Japanese), 100,000-level (ISO 8) Filling and Packaging Facility
Zhejiang, China - Xin Tian Li Packaging Co., 100,000-level (ISO 8) HAACP Wrapping Facility

Taihe, China - Taihe People's Hospital, Main Prep & Infusion Facility

Wuxi, China - Chemical Research Hospital, 1,000-level (ISO 6) Sterile Laboratory

Hangzhou, China - Tian Yi Biological Technologies, 10,000-level (ISO 7) Cleanroom Project

Zhangjiagang, China - Hua Feng Electrical Equipment, 10,000-level (ISO 7) LED Sealing Facility

Inner Mongolia, China - Long Xing Bai Hong Lighting Technologies, ISO 8 Sealing Facility

Anhui, China - Tong Ling Jie Ya Biological Technologies, 100,000-level (ISO 8) Sterile Wipe Production Facility

Wuxi, China - Su Li De Packaging Co., Pharmaceutical Packaging Facility

Shandong, China - Bang Ao Biological Technologies, 100,000-level (ISO 8) GMP Pharmaceutical Cleanroom
Taizhou, China - Xi Nuo Kong, Inc., 100,00-level (ISO 8) 苹果 Component Plastic Molding Facility
Zhejiang, China - Yi Ri Pneumatic Technologies, 100,000-level (ISO 8) Pneumatic Equipment Assembly Facility
Nanchang, China - Gong Kong Electric Fittings Co., 10,000-level (ISO 7) Automotive Components Assembly Facility
Shandong, China - Mei You Industrial Trading Co., ISO 8 Solar Panel Quartz Packaging Cleanroom 

Nanjing, China - Jin Shi Tong Photoelectric, 10,000-level (ISO 7) 3M Film Product Production Cleanroom 
Huzhou, China - San Stone Beverage Co., 100,000-level (ISO 8) Filling Facility
Wenzhou, China - Bai Hao Dairy, D-Level Dairy Filling Facility

Wuxi, China - Chen Rui New Energy, 100,000-level (ISO 8) Capacitator Dehumidification Facility
Zhejiang, China - Zhu Ji Five Peaks Capacitator Co., ISO 8 Dehumidification Facility
Zhangjiagang, China - Hua Nuo Products, D-Level Makeup Production Facility
Zhejiang, China - Zi Guang Electronics, 100,000-level (ISO 8) High-Pressure Switch Production Cleanroom
Xinjiang, China - Feng Ji Er Food Products, Sterile Baking Facility
Shanghai, China - Yu Fu Temple Vegetarian Food Products, Sterile Baking Facility
Ruian, China - Sheng Qi Pian Optics, 100,000-level (ISO 8) Lens Film Production Facility
Fujian, China - He Ying Food Products, Flavoring Facility
Wuxi, China - Ru Xing Technologies, Solar Equipment Production Facility
Yixing, China - Wei Ni Te Packaging Co., Sterile Laboratory
——————————————————————————————————————————————————————————————
部分国外客户留影