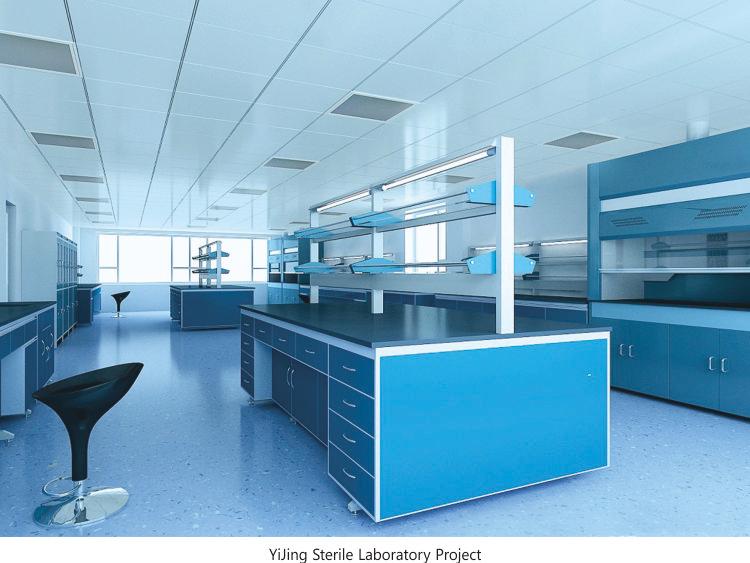 Sterile Laboratories
Applicable Industries: Microbiology, Biomedicine, Biochemistry, Genetic Research
Cleanliness Level: FS209E 100 - 100,000; ISO 5 - 8
Sterile Laboratory Design
Sterile laboratories consist of up to six different sections: prep room, wash room, disinfecting room, sterile room, incubation room, and regular laboratory. The surfaces of these rooms are all smooth and hard; and the instruments within are laid out economically, and are easy to clean and maintain
.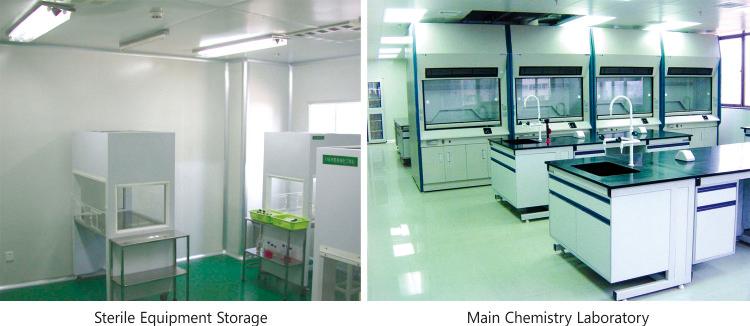 Sterile Laboratory Disinfection Procedures

(1) Fumigation is a method of complete disinfection that is common in sterile laboratories. Formaldahyde, lactic acid and sulfur may all be used to fumigate sterile laboratories.
(2) A 5% carbolic acid spray can be used in the laboratory to disinfect the air. The spray will also make dust particles and microorganisms fall from the air onto a surface so that they can be wiped away.
(3) UV Lights are another method of disinfection. UV lights should be turned on for 30-60 minutes before each time the laboratory is used.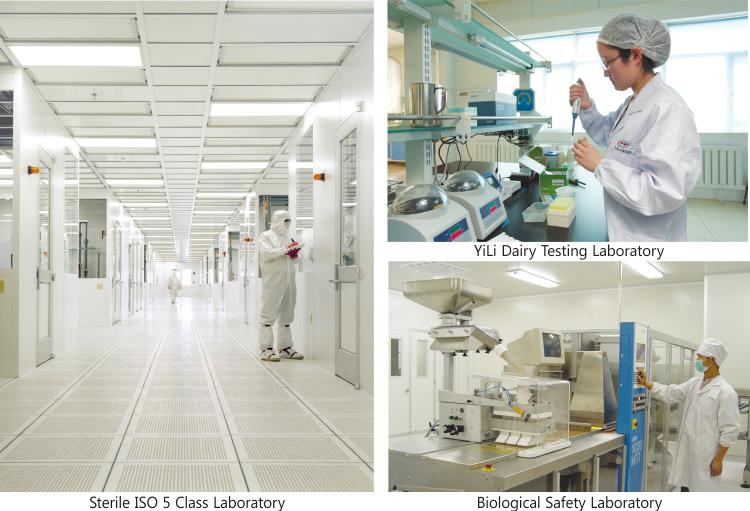 YiJing Sterile Laboratory Technical Specifications
Laboratory Air Change Rate

100,000 Level - 10-15/hour; 10,000 Level 15-25/hour; 1,000 Level 50-52/hour

Workstation Air Speed

Pressure Disparity

Main Laboratory ≥5Pa compared to adjacent facilities

Temperature

Winter >16℃±2℃;Summer

<26℃±2℃

Relative Humidity

Noise Level

≤65dB

Lighting
Additional Information
(1) Changing rooms and main laboratory have air velocity of over 0.3 m/s. Air shower air velocity should be at least 15 m/s. Air pressure disparity between main clean areas and outside areas should be at least 5 Pa. Interior noise level should not exceed 60 db.

(2) Level 2 sterile laboratories are 10,000 Level (ISO 7) in all areas, and 100 Level (ISO 5) in workstations and other critical areas.
(3) The air filtration system for level 2 laboratories includes initial, intermediate, and high-efficiency HEPA filters. These laboratories should employ laminar air flow. Air showers and changing room equipment (sinks, etc.) should all be automatic.
(4) Level 3 sterile laboratories are similar to level 2 sterile laboratories in many ways, but they have additional purification equipment to ensure an even more sterile environment. Level 3 laboratories have self-leveling epoxy resin floors, and are equipped with electronic door locks, interlocking pass boxes, and equipment for disinfecting pipes in the laboratory. 
(5) Most sterile laboratories are negative pressure environments. The lab itself should have a pressure disparity of 30-40 Pa, while the buffer area should have a disparity of 15-20 Pa.


Sterile Laboratories - Other Equipment
Air Showers, Clean Benches, Pass Boxes, Sampling Booths, Filter Fan Units (FFU), High Efficiency Vents, Cleanroom Doors & Windows

Sterile Laboratory Construction Criteria
(1) All construction materials must meet BSL-1 requirements
(2) Laboratory doors should be equipped with automatic locks and transparent windows
(3) Laboratories should have adequate space dedicated to storage
(4) Laboratory personnel should wear cleanroom apparel and latex gloves at all times
(5) There should be an area to store personal clothing within the laboratory facility
(6) The laboratory facility should be equipped with a high-pressure sterilizer
(7) The laboratory should be equipped with a biosafety cabinet
(8) The laboratory should contain an eyewash station and an emergency sprinkler system
(9) Laboratory exit sign should illuminate in the dark

(10) There should be a reliable power source and emergency lighting so that in case of a power failure, important equipment will still have a power source.
---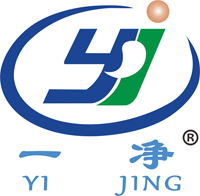 Selected YiJing Cleanroom Projects
Linqing, China - Linqing People's Hospital Operating Studio

Hangzhou, China - Hangzhou Geological Research Institute, 10,000-Level (ISO 7) Sterile Laboratory

Hefei, China - China Technology University Modern Physics Systems Research Laboratory
Hangzhou, China - Bo Ri Technology Co., PCR Gene Research Laboratory
Guangzhou, China - Guangzhou South China Science and Technology University Inoculation Laboratory
Sizhou, China - Quarantine Bureau Sterile Cleanroom

Taizhou, China - Shan You Plastics, Material Research Laboratory 

Zhengzhou, China - Si Nian Group, Product Quality Testing Laboratory
Zhejiang, China - Ju Hua Group, Material Research Laboratory

Wuxi, China - Chemical Research Institute, 1,000-Level (ISO 6) Sterile Laboratory
Danyang, China - Dan Yao Optics, 10,000-level (ISO 7) Production Facility
Shuozhou, China - Shuozhou Disease Control Center, PCR Laboratory and Cleanroom
Xi'an, China - Fu Shi Da Technology Co., 1,000-level (ISO 6) Laboratory

Urumqi, China - Urumqi Central Hospital, 100-level (ISO 5) Sterile Laboratory

Ningbo, China - Xian An Chemical, 100-level (ISO 5) Sterile Laboratory
——————————————————————————————————————————————————————————————
部分国外客户留影