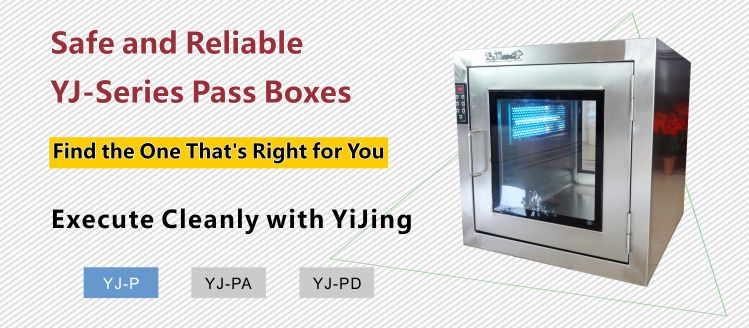 Introduction to Cleanroom Pass Boxes

 Pass boxes are a component of a cleanroom system that allows for transfer of items between two areas of differing cleanliness. These two areas can be two separate cleanrooms or a non-clean area and a cleanroom. Utilizing pass boxes decreases the amount of traffic in and out of the cleanroom, which saves energy and lowers risk of contamination. Pass boxes are often seen in sterile laboratories, electronics manufacturing, hospitals, pharmaceutical manufacturing facilities, food and beverage production facilities, and many other clean manufacturing and research environments.
YiJing Pass Box Advantages
(1) Durable

Our pass box exteriors are constructed of SUS304 Stainless Steel or high-quality steel plate, while our interior surfaces are 100% Stainless Steel.

(2) Modern
We use top of the line YiJing HEPA Filters in our pass boxes to ensure that unwanted particles are filtered out of the environment. High powered UV lights also ensure that the pass box is kept free of contaminants.

(3) Safe
Available magnetic and electronic locks prevent both pass box doors from opening at the same time, which in turn prevents contaminaion of the clean area by air from the less clean area.

(4) Flexible
We manufacture DOP, Air Shower Style, and Traditional Pass Box models to fit your needs. We offer six standard sizes, and can produce any size with custom dimensions according to customer requests.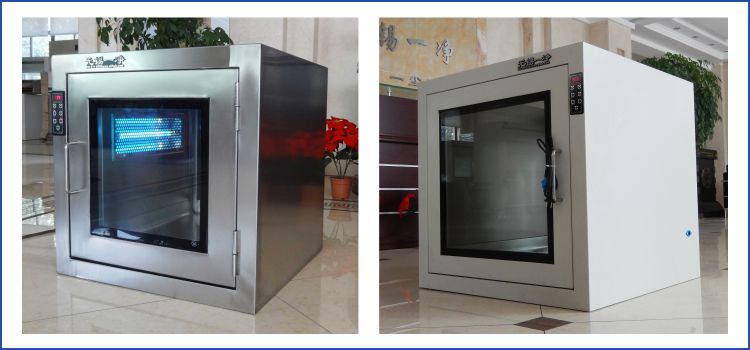 Available in 100% Stainless Steel and High-Quality Steel Plate

Rounded Arc Corners for Added Safety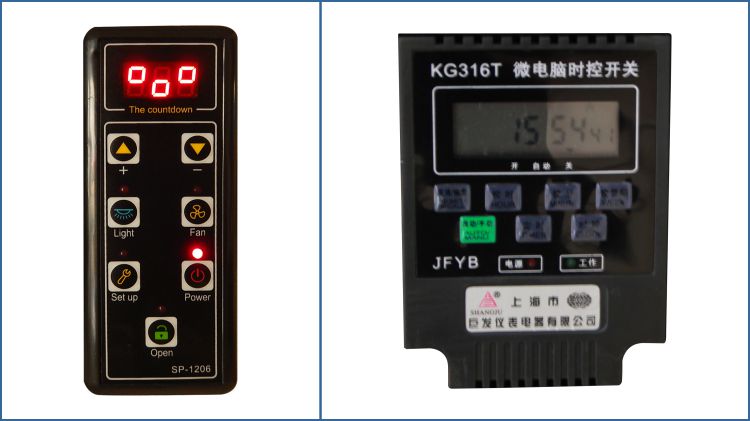 Pass Box Control Panel and UV Light Operation Panel
Pass Box Usage Procedures
Pass boxes should be designed to meet the cleanliness level of the cleaner of the two areas that they connect. For example, if a pass box connects a printing room (FS209E 100,000 / ISO 8) and a packaging room (FS209E 10,000 / ISO 6) at a pharmaceutical plant, the pass box should meet 10,000-level (ISO 6) standards. Furthermore, personnel from the clean area should be responsible for cleaning the pass box and sterilizing it with the UV light for 30 minutes per day at the end of the shift.
(1) The channels for goods and personnel to enter/exit the cleanroom should be clearly separated--both physically and with an adequate amount of signs indicating the purpose of each passage.
(2) When using a cleanroom pass box, personnel must strictly adhere to the "one door at a time" rule. That is, both doors cannot be open at the same time in order to avoid cleanroom contamination. Only when the door on the opposite side has been sealed can the door on the other side be opened.
(3) When items leave the cleanroom via the pass box, they should be moved to their next process destination or to a buffer area in a timely fashion.
(4) Any waste or potential contaminants should have a dedicated channel by which they should be transported out of the clean area.
(5) Remember to regularly clean and sanitize your pass box and related areas on a regular basis.
YJ-P Series Cleanroom Pass Box Spec Sheet

Model

Interior Dimensions
LxWxH (mm)

Exterior Dimensions




LxWxH (mm)

Locking
Mechanism

YJ-P-300

300 x 300 x 300

500 x 380 x 460

Electronic Lock

YJ-P-400

400 x 400 x 400

600 x 480 x 560

Electronic Lock

YJ-P-500

500 x 500 x 500

700 x 580 x 660

Electronic Lock

YJ-P-600

600 x 600 x 600

800 x 680 x 760

Electronic Lock

YJ-P-700

700 x 700 x 700

900 x 780 x 860

Electronic Lock

YJ-P-800

800 x 800 x 800

1000 x 880 x 960

Electronic Lock

Note: All models listed above are standard models. We can make any non-standard pass box according to customer needs.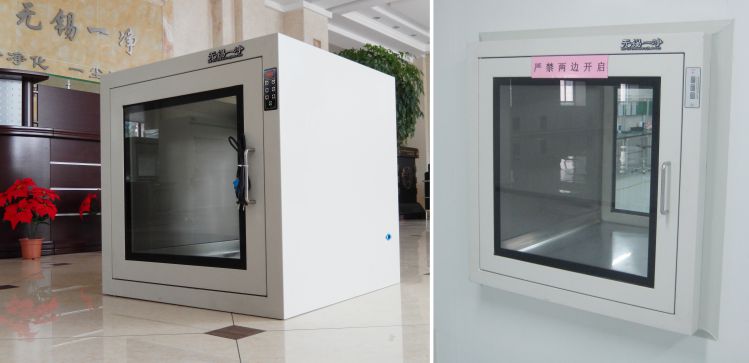 Yijing Pass Box Before and After Installation