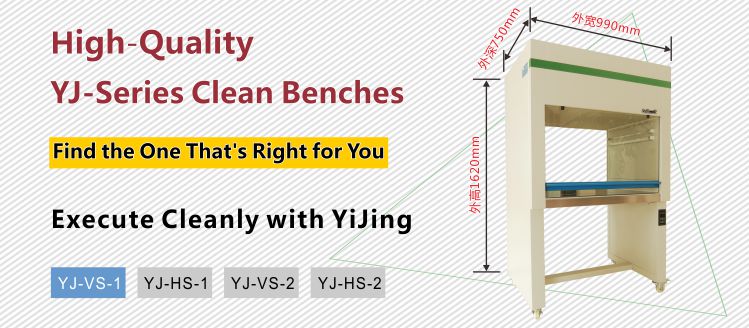 YiJing Clean Bench Overview
  Clean benches are commonly found in cleanroom environments in many different modern industries such as optics, cosmetics, and medical instruments. YiJing clean benches are easy to use, simple to install, and super efficient. Our VS-series of laminar flow clean benches can accommodate one or two users in one or two working areas. The VS-series employs an advanced air filtration and anti-static system along with quiet fan technology to produce a constant stream of pure air that will provide you with an ultra clean workspace.
YiJing Clean Benches use energy-efficient, high-performance variable drive fan units and high-efficiency, durable HEPA filters that remove over 99.9995% of contaminants from the air. The stock model YJ-VS-1 can be customized to meet customer needs such as standing work environments, double working surfaces, exhaust systems, and extra-wide dimensions.  
YiJing Clean Bench Advantages
(1) Quality
We use German EBMpabst fan motors to ensure efficiency and durability. Variable speed drive means up to 50% savings in energy costs, while high-quality design allows for minimal maintenance and up to 50,000 hours of use.
(2) Design
Our clean benches feature a working surface with rounded corners constructed of 100% SUS304 stainless steel and 5 mm-thick barrier glass. We design our clean benches with the user experience in mind. 
(3) Customizable
We can accomodate any special client requests when it comes to clean bench designs and accessories--up to and including building a connectable 100-level (ISO 5) "assembly line" of clean benches. Our convenient control panel allows the user(s) to adjust fan speed at any time.
(4) Standardized
All clean benches leaving our factory must first pass inspection to ensure compliance with FS209E level 100 (ISO 5).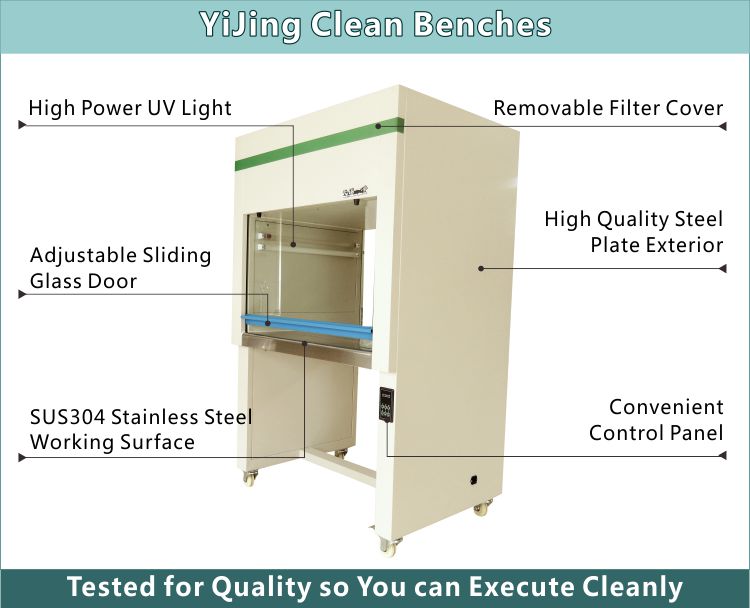 How to Maintain Your Clean Bench
(1) Remember to clean your initial air filter once every 3-6 months (depending on usage).
(2) If you notice that you cannot achieve the desired air speed after cleaning your filter, turn up the knob that controls fan power. For a new clean bench, this should be set at 80-90V. 。
(3) HEPA filters are typically designed to last for ~18 months. If you notice that after 18 months you are having trouble achieving desired air speed even with the fan pressure turned all the way up, it means that your filter is full of particles and needs to be changed.
(4) When changing your HEPA filter, you should replace it with a filter of the exact same specifications, preferably from the same manufacturer.
YiJing YS-Series Clean Bench Features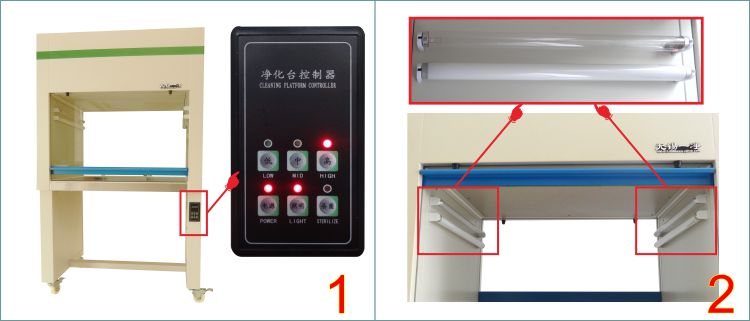 (1) Convenient control panel for adjusting fan speed, UV light, and unit power

(2) High-powered UV Light(s) for daily sterilization of your clean bench
(3) 100% stainless steel working surface with rounded arc corners
(4) Durable, quiet EBMpabst fan units designed to last up to 50,000 hours
YiJing Clean Bench Spec Sheet
Model

YJ-HS-1

YJ-VS-1

YJ-HS-2

YJ-VS-2

Airflow Direction

Horizontal

Laminar

Horizontal

Laminar

No. of Users

1

1

2

2

Exterior Size

LxWxH (mm)

900 x 720 x 1420

990 x 750 x 1620

1500 x 720 x 1420

1500 x 750 x 1620

Interior Size
LxWxH (mm)

860 x 520 x 600

830 x 700 x 520

1460 x 520 x 600

1340 x 700 x 520

Initial Filter(s)

500 x 500 x 10 (1)

437 x 390 x 10 (1)

500 x 500 x 10 (2)

437 x 390 x 10 (2)

HEPA Filter(s)

820 x 600 x 50 (1)

790 x 600 x 120 (1)

600 x 600 x 50 (1)

650 x 600 x 120 (2)

820 x 600 x 50 (1)

Fan Power

400W x 1

400W x 1

400W x 2

400W x 2

Lighting

20W x 1

20W x 2

30W x 1

20W x 2

UV Lamp

20W x 1

20W x 2

30W x 1

20W x 2

Material

Available in SUS304 Stainless Steel or 1.2mm High-Quality Cold-Rolled Steel Plate

Weight (kg)

110

120

140

160
Clean Bench FAQs
(1)
Q: Are all of YiJing's clean benches FS209E 100-level?
A: Yes. We build all of our benches to meet FS209E 100-level (equivalent to ISO 5) cleanliness standards. We test our benches before they leave the factory to ensure quality and compliance with standards.
(2)
Q: What are my choices when it comes to clean benches? How should I know which model to pick?
A: Clean benches are classified by the direction of airflow--either laminar or horizontal. We offer clean benches for single users, as well as workstations that are large enough for two users to work at comfortably. Finally, laminar flow clean benches can be customized to feature work areas on both sides, which allows a single or double bench to accommodate two or four users, respectively.
(3)
Q: Should I choose a laminar or horizontal flow clean bench?
A: The answer to this question mostly depends on the nature of work involved and customer preference. Both choices will provide the same clean work environment; however, there are pros and cons to each choice. For example, a horizontal bench does not require a step ladder to change the filter, but a horizontal bench also blows air toward the user. In the case where users are handling pungent or potentially hazardous chemicals, a laminar clean bench would be preferable.
(4)
Q: What is the standard pre-work procedure for preparing a clean bench?
A: 15-20 minutes before operating the clean bench, turn on the fan and UV light to sterilize the area. Remember to never use the UV light while sitting at the bench.
(5)
Q: What happens if the equipment is damaged during the delivery process? What about after sales service?
A: We package all outgoing shipments in sturdy wooden crates to prevent this sort of problem. However, if there is any damage during the delivery process, we will replace the item. Our products are all backed by a one-year free warranty, and our technical support staff can assist you with any issues you encounter.