YJ-ZKW Series Air Conditioning/Air Handling Systems

YiJing YJ-ZKW Series Air Conditioning Systems are uniquely designed multi-stage air handling systems that are comprised of multiple stages, including air mixing, filtration, cooling, heating, humidification, and noise dampening. These components are individually manufactured and shipped to you before the system is assembled and installed. Working together with you, YiJing can design and manufacture an air conditioning system that perfectly suits the needs of your operation.


We use high-quality, durable aluminum alloy to prevent any leakage or contamination; and high-grade support brackets to ensure uniform weight distribution. The exterior consists of an outer layer of double-paneled siding and an interior double layer of galvanized steel and clad steel sheet. Between these two layers we insulate the unit with 50 mm of fluorine-free polyurethane. These components form an effective seal that prevents fluid leakage and air leaks. Our air conditioner coils are designed in accordance with American ARI (American Refrigeration Institute) Standards. YiJing only uses imported copper tubing for the units' high-efficiency heat exchange beltline. YiJing exclusively uses KF-series central air double-intake centrifugal fan units, which are quiet and efficient. We install the A/C unit motor adjacent to the fan units so that the motor can run in a cool environment free of dust, which increases energy efficiency. We also offer several different models of humidifiers to suit your needs.


YJ-ZKW fan units and motors are installed on shock-absorbant bases to reduce noise from vibration. We also employ flexible pipe connections for this same purpose. All A/C axes and impellors undergo static and dynamic balance checks to ensure low noise during operation.
YiJing air conditioner systems include a convenient maintenance door for easy access. Repairs and routine maintenance are quick and simple. We employ a rust-resistant condensation tray. The system is also relatively simple to disassemble in case of need for major repairs.

YiJing Air Handling Units (AHU)

YiJing AHU Control Room and Control Panel
Exterior view of Installed YiJing AHU System
YJ-ZKW Series Air Conditioner Systems Spec Sheet
Model

ZKW-10

ZKW-20

ZKW-30

ZKW-40

ZKW-50

ZKW-60

ZKW-70

ZKW-80

E

x

t

e

r

i

o

r

Output m?/h

10,000

20,000

30,000

40,000

50,000

60,000

70,000

80,000

AC Mode KW

58.15

116.28

174.42

232.56

290.07

348.84

407.05

465.12

Heater KW

69.78

139.53

209.30

279.07

348.84

418.61

488.37

558.14

Area

(mm)

H

1500

1700

2100

2300

2600

2700

2800

2900

W

1580

1780

2180

2380

2680

2780

2880

2980

F

a

n

Model

KKF-450

KKF-630

KKF-710

KKF-900

KKF-900

KKF-1000

KKF-1000

KKF-1120

Output Range

(m?/h)

8,255-

16,922

16,411-

25,026

25,115-

36,020

34,030-

45,941

45,941-

57,852

57,038-

69,590

63,438-

75,680

70,548-

88,838

P
i
p
e
s

Cold Water Pipe Diameter (mm)


50-65

50-65

50-65

50-65

65-80

50-65

50-65

65-80

Steam Pipe
Diameter (mm)

Dg40

Dg50

Dg65

Dg80

Dg80

Dg100

Dg100

Dg100

YiJing AHU Systems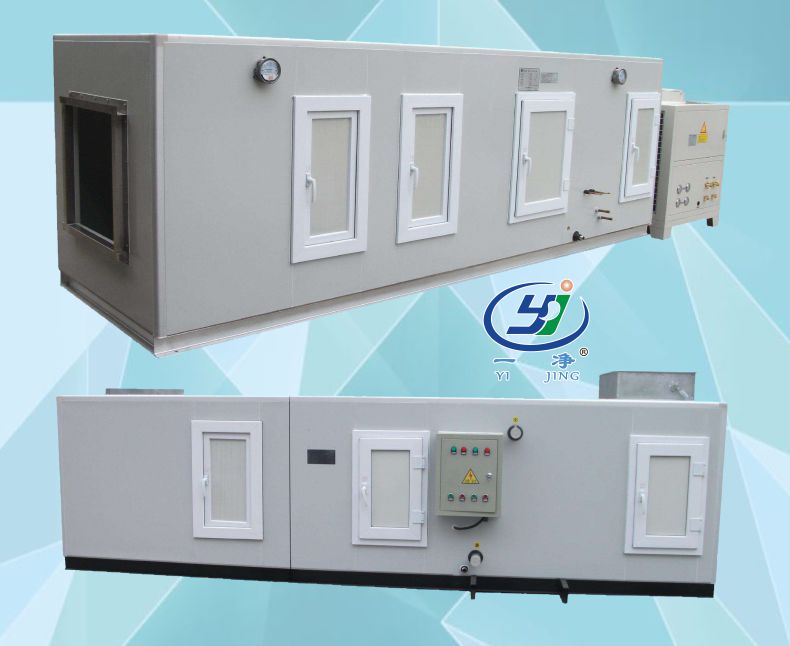 YiJing Cleanroom AHU Systems
部分国外客户留影