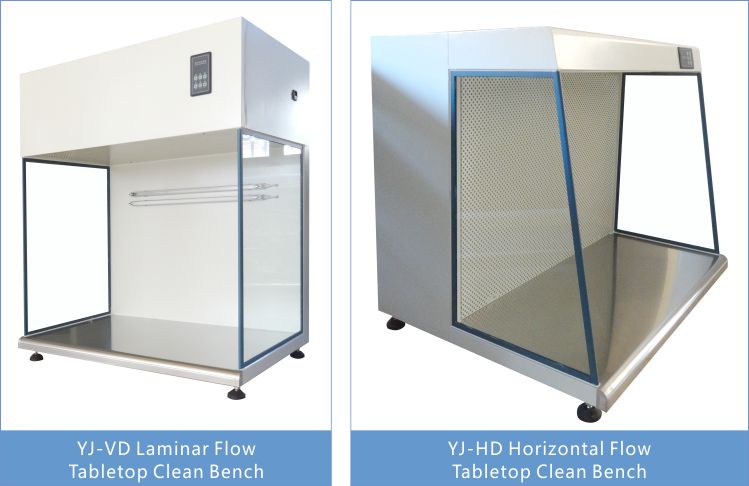 YiJing Clean Bench Overview
  Clean benches are commonly found in cleanroom environments in many different modern industries such as optics, cosmetics, and medical instruments. YiJing clean benches are easy to use, simple to install, and super efficient. Our VD/HD-series of tabletop clean benches can accommodate one or two users. The VD/HD-series employs an advanced air filtration and anti-static system along with quiet fan technology to produce a constant stream of pure air that will provide you with an ultra clean workspace.
YiJing Clean Benches use energy-efficient, high-performance variable drive fan units and high-efficiency, durable HEPA filters that remove over 99.9995% of contaminants from the air. As opposed to our traditional VS and HS series of free-standing clean benches, the VD and HD series can be mounted to an existing desk or tabletop, which allows for added convenience and mobility.  
YiJing Clean Bench Advantages
(1) Quality
We use German EBMpabst fan motors to ensure efficiency and durability. Variable speed drive means up to 50% savings in energy costs, while high-quality design allows for minimal maintenance and up to 50,000 hours of use.
(2) Design
Our clean benches feature a working surface with rounded corners constructed of 100% SUS304 stainless steel and 5 mm-thick barrier glass. We design our clean benches with the user experience in mind. 
(3) Customizable
We can accomodate any special client requests when it comes to clean bench designs and accessories--up to and including building a connectable 100-level (ISO 5) "assembly line" of clean benches. Our convenient control panel allows the user(s) to adjust fan speed at any time.
(4) Standardized
All clean benches leaving our factory must first pass inspection to ensure compliance with FS209E level 100 (ISO 5).
How to Maintain Your Clean Bench
(1) Remember to clean your initial air filter once every 3-6 months (depending on usage).
(2) If you notice that you cannot achieve the desired air speed after cleaning your filter, turn up the knob that controls fan power. For a new clean bench, this should be set at 80-90V. 。
(3) HEPA filters are typically designed to last for ~18 months. If you notice that after 18 months you are having trouble achieving desired air speed even with the fan pressure turned all the way up, it means that your filter is full of particles and needs to be changed.
(4) When changing your HEPA filter, you should replace it with a filter of the exact same specifications, preferably from the same manufacturer.

YJ-VD/HD型单人/双人水平/垂直桌上型超净工作台技术参数:
1.气流流型:水平层流(从对面水平吹风,进风口在底端,初,中,高效三级过滤);
2.气流流型:垂直层流(从顶部吹进来,进风口在顶端,初,中,高效三级过滤);
3.净化等级:100级(美国联邦标准209E);
4.菌 落 数:≤0.5个/m·时;过滤效率对于粒径≥0.3um尘埃为≥99.995%(钠焰法);
5.平均风速:≥0.5m/s±20%(可调);
6.噪音:≤62dB(A);
7.振动:≤3um(X、Y、Z方向);
8.照明:≥300LX; 电源:220V 50HZ;
9.灯具:照明灯具20W×①; 紫外线灯具: 20W×①;
10.最大功耗:额定功率为400W/800W,采用得胜鑫低噪音高风压离心风机,数量1/2台;
11.设计:操作台面圆弧形设计,台面新颖型冲孔设计,人性化设计,员工作业更舒适;
12.挡风玻璃:前挡风玻璃采用5MM厚度全钢化玻璃设计,操作台面采用铅锤平衡原理,可自由升降,随时定位,操作更方便;
13.材质:外箱体采用优质冷轧板烤漆处理(四道工艺),颜色为象牙烤白,钢板厚度为:1.2MM;
14.台面材质:台面采用SUS304不锈钢材质,厚度为1.2MM;
15.控制方式:采用可调风量风机控制系统,软触式开关调节电压,保证风速始终处于理想状态;
16.电器控制:控制面板上有紫外线杀菌灯,照灯,风机调速控制软触点开关;
17.底部采用优质万向移动轮,万向固定轮,可随时定位,随时固定;
18.四周密封处全部采用美国"道康宁"品牌密封胶打胶处理,密封性能好,环保健康;
19.优势:过滤器全部在万级无尘车间中生产,全部逐台检漏出厂。
YJ-HD/VD Tabletop Style Clean Bench Spec Sheet
Working Area
LxWxH (mm)

Exterior Size
LxWxH (mm)

Air Filter(s)
LxWxH (mm)

Users