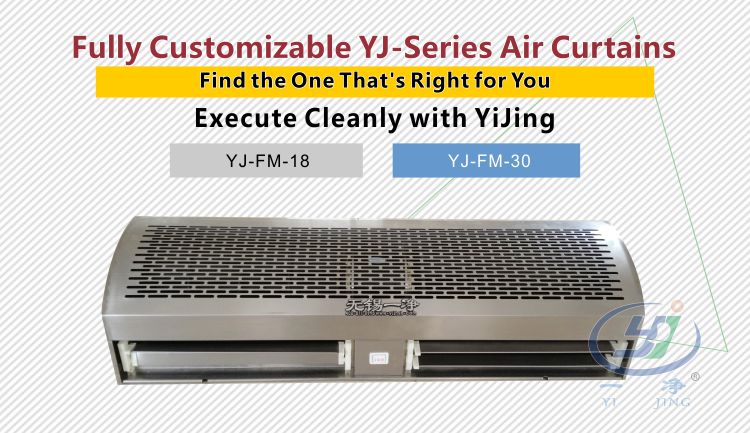 Air Curtain Overview
  Air curtains produce a high-speed current of air that blows downwards in order to form a barrier between two different environments. They are typically hung over doorways, and you will often see them in shopping malls, fast food restaurants, transit stations, and other crowded locations with heavy foot traffic. Air curtains serve the purpose of keeping the air in the interior environment separated from the exterior environment. This has the added benefit of keeping the air conditioned interior air from leaking outside, and saving on energy costs. It can also protect the interior environment from cold or hot air, smoke, insects, and bad odors. In this way an air curtain acts almost like an invisible second door.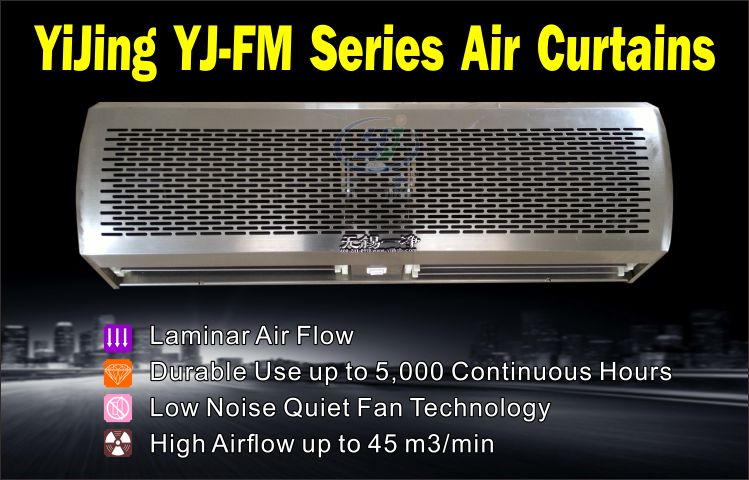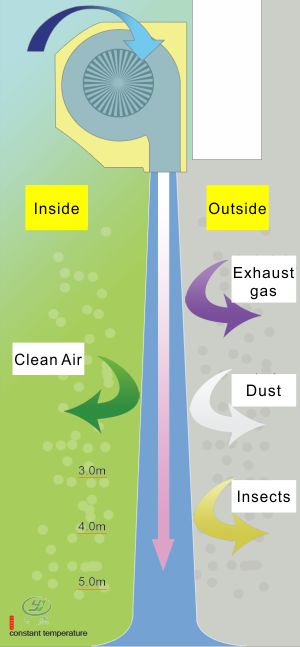 YiJing Air Curtain Advantages
Heat/Cold Insulation
 For environments like restaurants, hotels, and other commercial locations with near-constant foot traffic, an YiJing air curtain can help provide an insulation effect of 60-80% to keep your customers comfortable.


Insect Protection

  Insects such as flies and mosquitoes cannot pass through an activated air curtain, which means your environment, personnel, and customers will have a refuge from these pests during warmer weather.


Dust Barrier

 For environments like precision machine shops, clothing stores, or even shops that sell food that are located near a bus stop, an air curtain can provide 60-80% insulation from exterior dust particles.


Continuous Fresh Air
 Air curtains can prevent enviromental contamination by unpleasant odors in settings such as laboratories, markets, restaurants, and even manufacturing and cold storage facilities. In areas near crowded roads, they can also prevent car exhaust fumes from entering the environment.


Negative Ion Technology
 YJ-FM Series Air Curtains employ negative ion technology to produce cleaner, healthier air for the environments in which they are installed.
Additional Important Information

Applications: Air curtains are used widely in cleanroom environments, hotels, restaurants, shopping malls and other retail establishments, banks, train stations, airports, banks, hospitals, and other locations with heavy foot traffic. 
Wide Selection: We offer several models of air curtains for all types of environments. For doorways less than three meters high, we offer our high-power YJ-FM-18 series; and for doorways three to five meters high, we offer the super high-power YJ-FM-30 series. We also offer warm air air curtains that blow warm air instead of the standard cool air.

Optional Upgrades: We offer customized features such as remote control air curtains, infrared sensor-activated air curtains, and magnetic door sensor-activated air curtains.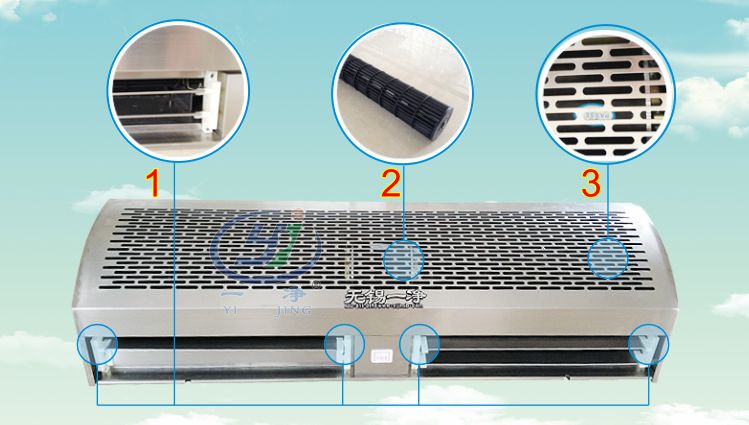 Design Features: Smooth exterior with rounded corners and no extrusions; easy to clean and maintain; easy to install; metal exterior; fire-resistant construction; energy-efficient; continuous use of up to 5,000 hours; low volume; adjustable flow direction; adjustable fan speed; upgrades available

YJ-FM Series Air Curtain Spec Sheet

Model

Turbine
Diameter
(mm)

Voltage

Wattage

Air Velocity
(m/s)

Total Air
Output

(M3/Min)

Fan
Volume
(db)

Exterior
Dimensions
LxWxH (mm)

YS-FM-30 Series Air Curtains

FM30-60

150

220

80

10-12

30-40

60

600 x 240 x 240

FM30-90

122

220/380

80

10-12

25-30

53

900 x 195 x 222

FM30-100

122

220/380

100

10-12

28-33

55

1000 x 195 x 222

FM30-120

122

220/380

120

10-12

30-35

57

1200 x 195 x 222

FM30-150

122

220/380

150

10-12

35-40

59

1500 x 195 x 222

FM30-180

122

220/380

180

10-12

40-45

62

1800 x 195 x 222

YS-FM-18 Series Air Curtains

FM18-90

180

220/380

250

12~14

37-42

62

900 x 240 x 260

FM18-120

180

220/380

370

12~14

42-47

65

1200 x 240 x 260

FM18-150

180

220/380

400

12~14

47-52

68

1500 x 240 x 260

YiJing RFM-Series Warm Air Curtains

Model

Turbine
Diameter (mm)

PTC

Wattage

Air Velocity
(m/s)

Total Air
Output

(M3/Min)

Fan Volume




(db)

Exterior


Dimensions
LxWxH (mm)

FM30-90

150

8

120

7-11

21-23

58

900 x 240 x 240

FM30-120

150

10

180

7-11

30-47

60

1200 x 240 x 240

FM30-150

150

12

250

7-11

37-55

62

1500 x 240 x 240

FM30-180

150

16

370

7-11

48-55

64

1800 x 240 x 240